Shrimp and Tilapia Ceviche with Mango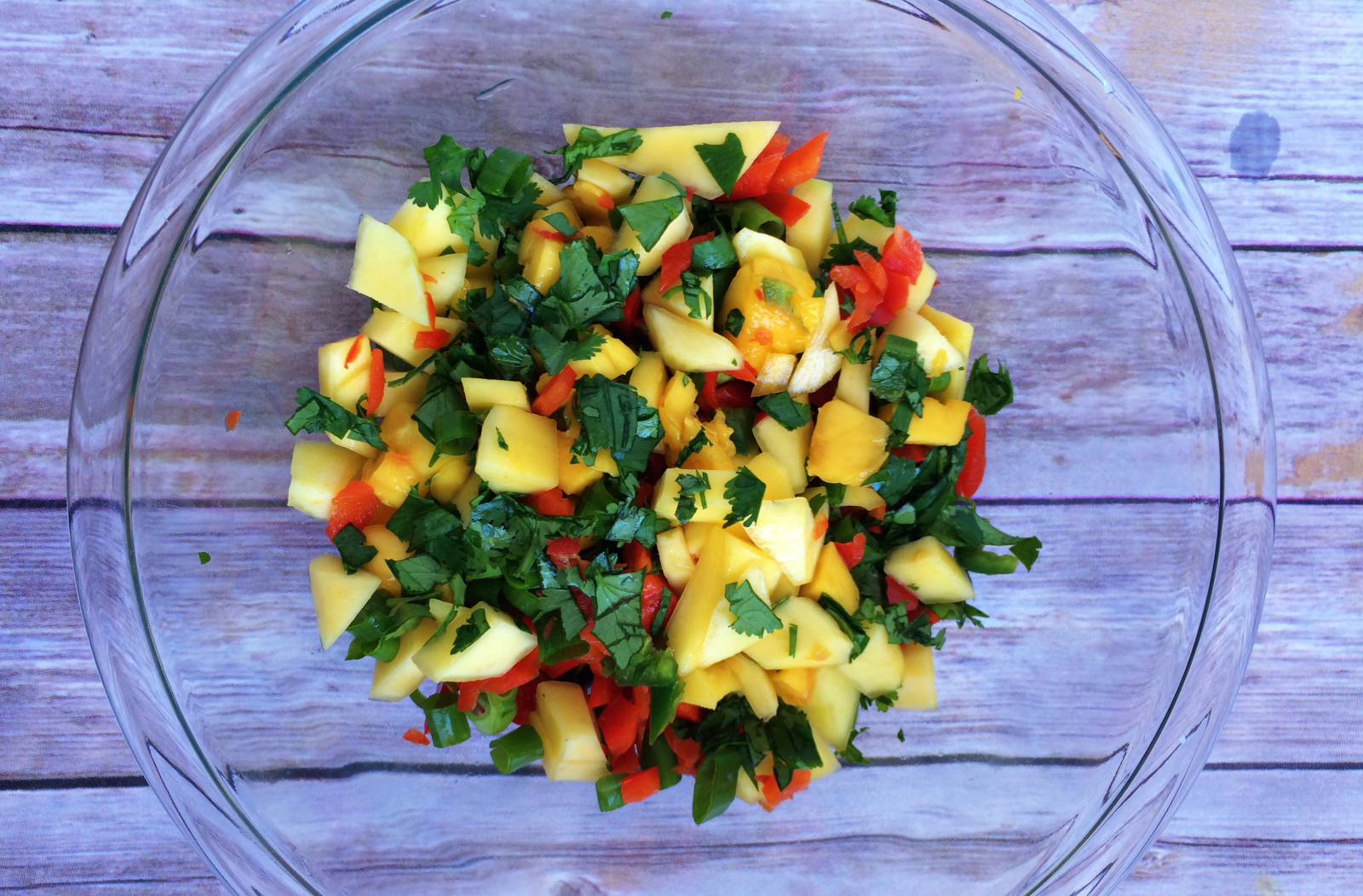 Ceviche is the perfect dish to whip up for a  dinner party or backyard grill-out. Packed full of fresh seafood and heaped with chopped veggies, it makes for the appearance of a great deal of effort and inventive cooking. In fact, it's one of the easiest appetizers to throw together to be enjoyed later in the day.
After preparing this recipe at a Hipcooks class in West LA, I learned that the preparation of raw seafood is far from daunting. The raw fish and shrimp is simply marinated and cooked in lime juice. Just be sure to use the absolute freshest ingredients!
The majority of the prep for this dish involves dicing up the mango, scallions, red pepper, and jalapeño, along with finely chopping the fresh cilantro. If you have a food processor on hand, this will make the process even more quick and simple.
I picked up two different varieties of mangoes from Whole Foods - the popular red/ green skin variety known as the Hayden mango, as well as the yellow-skinned Francique variety from Haiti. Next time I prepare this dish, I'll be sure to stick with the latter variety as the sweet, rich flavor provided the perfect contrast to the spice of the cilantro and jalapeño.
The ceviche can be served either with tortilla chips or atop tostadas with a few slices of avocado. Don't forget the ice-cold Mexican beer to wash it down!
Prep Time: 20 mins
Cook Time: 4 hrs (Fish will cook in the lime juice marinade)
Serves: 6
Ingredients
1/2 lb Tilapia, thinly sliced
6 Shrimp, halved lengthwise
2 Scallion, diced
2 Mango, diced
1 Red Bell Pepper, diced
1 small bunch Cilantro,  chopped
4 Limes, juiced
2 Lemons, juiced
1 Jalapeño, diced finely
2 tbsp, Olive  Oil
Sea Salt and Pepper to taste
Preparation
In a medium-size mixing bowl, fully immerse the sliced seafood in the lime and lemon juices. Cover and chill in the refrigerator for 3-4 hours. The shrimp will become slightly pink and the fish will turn from translucent to white as it cooks in the acidic juices.
Remove from refrigerator and drain off the lime and lemon juice. Gently squeeze the fish with your hands to further remove the juice. Next, add the diced pepper, jalapeño, scallions, mango, and cilantro. Drizzle with olive oil, then season with the sea salt and pepper.
Serve atop tostadas or with tortilla chips.
Crack open an ice-cold beer and enjoy!